Any C.P.A. firm can record history. Our firm will help you build a future.
With Business Advisory and Accounting Partners, you can expect to build a close relationship that adds long-term value to your financial picture. Count on us to assure the solidity of financial records, evaluate financial procedures and produce strategies that help you set, manage and reach your tax and financial goals.
Personal Tax Services
Peace of Mind…
Having served the Clearwater, Tampa Bay, Largo and St. Petersburg area for many years, Pinellas County C.P.A. firm FMA, C.P.A., strives to meet each client's specific personal tax planning needs to support their goals in an ever-changing financial and
regulatory environment
.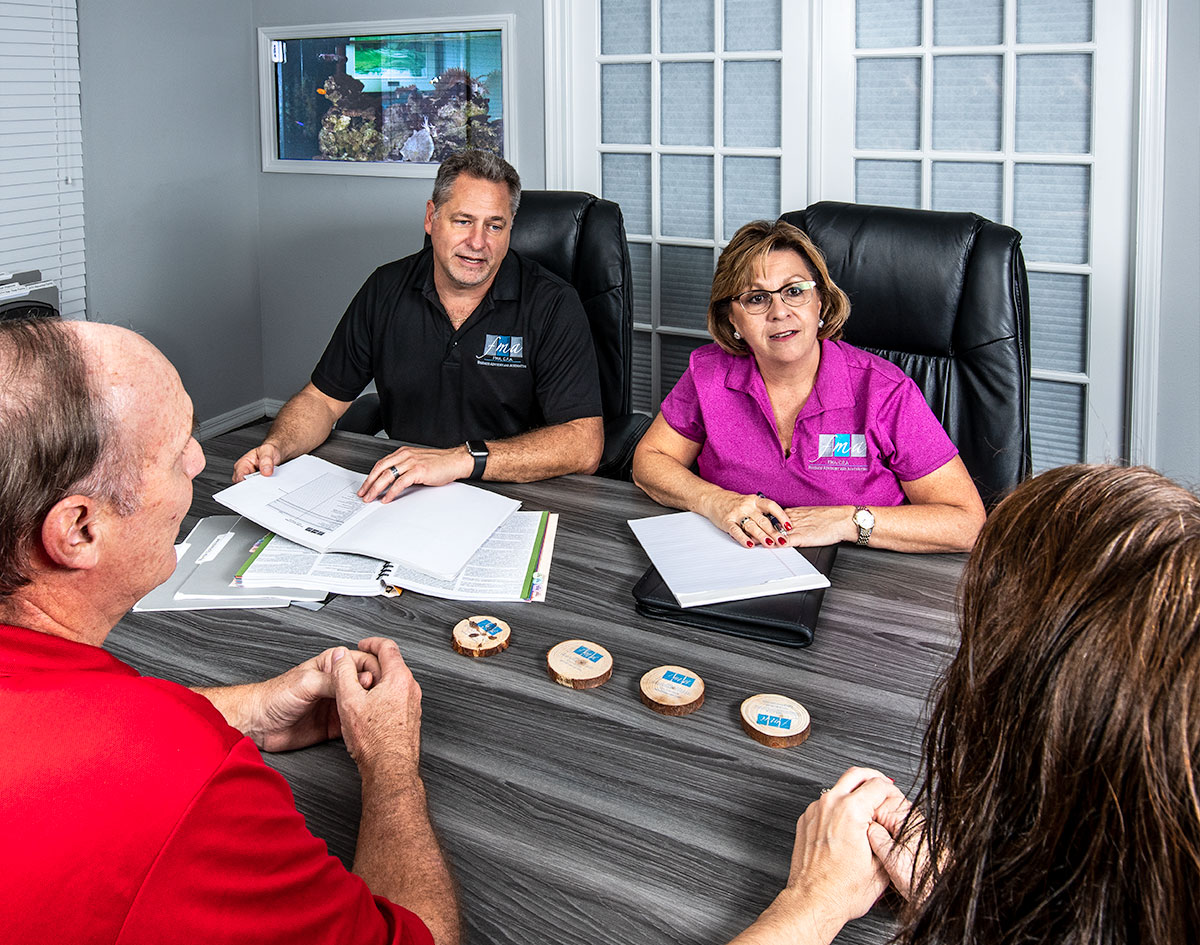 You're an expert in what you do for a living, and we're experts in what we do. You don't have to rely on second-hand advice or scour the internet for generic tax tips, when you have a professional giving you personalized guidance.
Cutting corners to save money upfront can cost you in the long run, through higher taxes, missed opportunities, and, possibly, penalties or an audit. Some CPAs or seasonal income tax companies offer cut-rate services to compete on price. By trusting a firm that's available to answer your questions all year round, and looks at your financial situation holistically, you can expect better results.
FMA CPA focuses on long-term value, not just filling out someone's taxes.
At FMA, C.P.A., we guide our clients through developing a tax planning and preparation strategy that aligns with their goals. Our expertise, experience, analysis and thorough research allow us to optimize financial opportunities within existing or recently changing tax laws. We are knowledgeable and up to date on the tax laws and can proactively plan for tax filings.
What We Offer
Our personalized services set us apart from other tax preparation providers. We offer:
A proactive approach to tax preparation that empowers you to achieve your goals

More than 30 years of experience

Expertise ranging from basic tax management and accounting services to more in-depth services such as financial statement preparation and review

A fee structure tailored to your individual situation and tax preparation needs

Locations in Clearwater and Land O' Lakes as well as virtual meetings
Before you meet with a tax preparer, prepare all the necessary elements. These are the items you need handy in order to file your personal income taxes. If you are married, make sure to include all these items for both spouses.
Your social security number or federal tax ID number

Dates of birth and social security numbers of dependent children

Form 8332 if you're a noncustodial parent claiming a child as a dependent

All W2s for the appropriate tax year

All 1099s for the appropriate tax year

Records of any other income such as interest, annuities, unemployment insurance, real estate or gambling winnings

Receipts from deductible expenses

Receipts from deductible charitable gifts

Records of

home office expenses

Jury duty records

Alimony and child support records

Mortgage interest statement

Records of expenses for medical care, childcare, and education

Retirement savings statements

Records pertaining to a federally declared disaster that affected you
Learn more with our complete list of personal tax tips.
Estate and Trust Planning and Tax Preparation
Financial well being is much more than tax planning. Estate and trust planning are key components of protecting your wealth. Whether for a
business
or individual, wealth preservation for future generations requires knowledgeable trust planning and estate tax minimization strategies.
FMA, C.P.A. has extensive experience with estate and trust planning which includes succession planning,
business continuity plans
, charitable trusts, estate tax returns and more. With proper trust and estate planning, our clients are confident their beneficiaries will receive assets with minimum taxation and at maximum ease.
Financial and Retirement Planning
FMA, C.P.A.'s goal is to help our clients reach their financial goals and maintain financial independence through a comfortable retirement. We guide our clients through complex decisions such as asset allocation, investment performance monitoring, college education funding, retirement plans, insurance, and tax, estate, and business succession planning.
2641 McCormick Dr. - Suite 103.
Clearwater, FL 33759
727-416-2767
info@busadvisory.com